Skillsmalta E-Membership Card: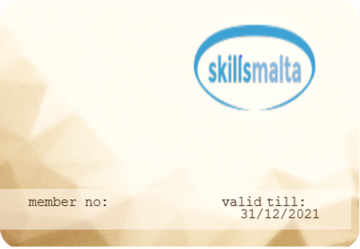 Terms and Conditions
Each Skillsmalta E-Membership Card, valid for one calendar year (expiry on 31 December), has a unique membership number (SM + member's ID) and is non-transferable.
Card holders are guaranteed participation in  any Skillsmalta activities  once booking 7 working days in advance.
Skillsmalta reserves the right to withdraw the card and/or change the terms and conditions.
Complementary E-Membership Cards will become renewable upon attending the first seminar (full rate) with Skillsmalta during that  current year.
 Subsequent seminars/sessions during the same year will benefit from Members rates
Members are responsible for keeping themselves updated by visiting www.skillsmalta.com
Skillsmalta Voucher Scheme:  Terms & Conditions
A Gift Voucher of Eur 5 is given to each participant once a webinar is booked with Skillsmalta. Bookings for 2022 webinars booked and paid until 31 December 2021
The Voucher can only be claimed by the same participants on her/his booking.
The use-by date is printed on each Voucher.
The Vouchers cannot be used with any other offer.
The Vouchers can only be applied on booking for webinars with a Eur35+ fee tag.
Only one Voucher can be redeemed per seminar.
Skillsmalta reserved the right to alter these T&C or to cancel the scheme at its own discretion.