Skillsmalta E-Membership Card: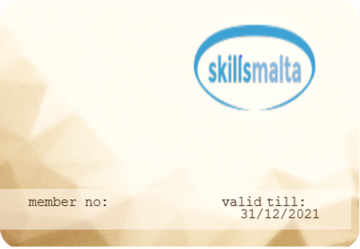 Terms and Conditions
Each Skillsmalta E-Membership Card, valid for one calendar year (expiry on 31 December), has a unique membership number (SM + member's ID) and is non-transferable.
Card holders are guaranteed participation in  any Skillsmalta activities  once booking 7 working days in advance.
Skillsmalta reserves the right to withdraw the card and/or change the terms and conditions.
Complementary E-Membership Cards will become renewable upon attending the first seminar (full rate) with Skillsmalta during that  current year.
 Subsequent seminars/sessions during the same year will benefit from Members rates
Members are responsible for keeping themselves updated by visiting www.skillsmalta.com
Skillsmalta 3 Vouchers Terms & Conditions
1. The Vouchers cannot be used with  any other offer.
2. The May Vouchers cannot be used for the 6 May Seminar.
3. They can only be applied once paying the full rate and for seminars costing Eur 50 or more
4. Special Members' rate (over and above the Vouchers) still apply for multiple session courses
4. Skilsmalta reserved the right to alter these T&C or to cancel the scheme at its own discretion.